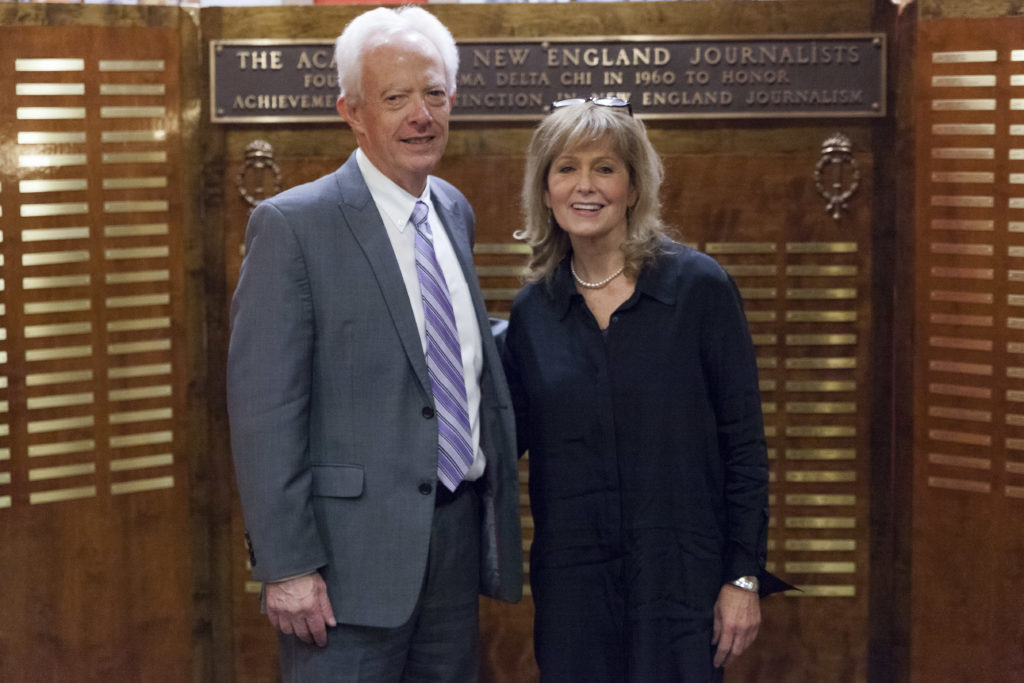 Bulletin photo by Jonathan Polen
Yankee Quill winners reflect on past, today's state of news
Jesse Goodman, Bulletin Correspondent
During the 57th Annual Yankee Quill Awards ceremony Oct. 12, the journalists who were honored talked about the importance of perseverance in journalism and the roads they took on their career path to be at the place they are now.
Three Yankee Quill Awards were presented, one posthumously.
The recipients were Robert J. Ambrogi, executive director of the Massachusetts Newspaper Publishers Association, author, and practicing lawyer; Robin Young, co-host of "Here and Now" on National Public Radio and based at WBUR-FM in Boston; and James Franklin, an 18th century Colonial printer and editor of the New England Courant in Boston.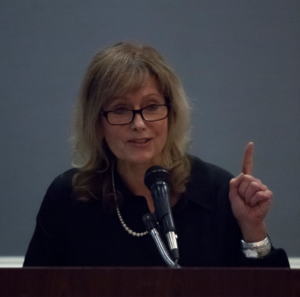 They are now Fellows of The Academy of New England Journalists, which presents the Yankee Quill Awards annually through the auspices of the New England Society of News Editors. The award is the highest individual honor given by fellow journalists in the region. Selection for the award is not based on any single achievement but rather on a broad influence for good during a career.
Young spoke during her acceptance speech about the winding route her career took, from being one of five women working in 1973 at WSKB-TV, also known then as TV38, in Boston. She worked behind the scenes as an assistant director who was second in charge behind the director. She then became the co-host in 1976 of "Evening Magazine" on what was then called WBZ-TV, Channel 4, in Boston.
Young discussed some of the sexism she experienced in the industry, including having to be a fill-in secretary at TV38 even though that wasn't her job.
"We wouldn't be here without the women who came before us," Young said.
Young has won many awards throughout her career, including five Emmy Awards for her television work, two CableACE Awards, numerous regional Edward R. Murrow awards.
Young described her fascination with local newspapers she would read while going through the communities where they were published, and using ideas from them to do her own stories.
"Today, I cannot start the day without reading the papers," Young said. "I can't imagine being in the town and not knowing what's going on, or what they're celebrating."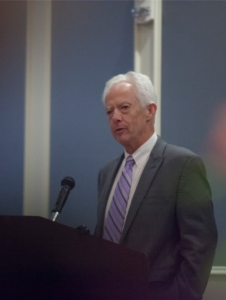 Ambrogi, who has published two books related to law, spoke about the bond between lawyers and journalists in the face of a presidential administration that does not want to share information. He is recognized as a leading crusader for reform of Massachusetts' public records law, and helped obtain approval of the first update of that law in four decades and of an overhaul of the Massachusetts Open Meeting Law.
"I'm mindful that we're at a time where government has little respect for law or journalism," Ambrogi said. "We're more than 30 years past the passing of FOIA, and the government is more secretive than it's ever been."
Ambrogi received the Massachusetts Bar Association's President's Award in 1993, and the 2011 Fastcase 50, which honors lawyers who are courageous innovators and visionaries. Ambrogi has co-hosted the award-winning podcast "Lawyer2Lawyer."
Franklin established the New England Courant in 1717 to vent his concerns about the Colonial government, and was considered to be the first practitioner of "yellow journalism."  Franklin was arrested in 1722 for scandalous libel.
Ben Franklin, James' younger brother, wrote for the New England Courant, as Silence Dogood. James Franklin later published a newspaper in Rhode Island called the Rhode Island Gazette.
Linda Levin, a former reporter and photo editor at The Providence (R.I) Journal and a former journalism professor at the University of Rhode Island, accepted the award on Franklin's behalf.
Levin said she could not find a relative of Franklin to give the award to, but that she did know of a place it could be kept.
Levin said she planned to give the award plaque to The Newport (R.I.) Daily News, the successor to the Rhode Island Gazette, which was James and his wife Ann's newspaper.
More than 50 people attended the awards dinner in the Crowne Plaza hotel in Natick, Mass.