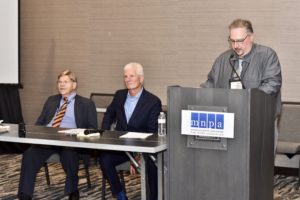 As NENPA Fall Conference attendees moved into the second afternoon talk on "Creative Approaches to New Revenue," it was learned that two of the four panelists – Jane Seagrave and Marianne Stanton – were unable to make the session because of weather-related travel issues.
But the remaining panelists – George Arwady and Peter Meyer – were determined to see the talk, presented by the Massachusetts Newspaper Publishers Association, happen.
Faced with constricting advertising sales, Meyer, Regional VP for GateHouse Media, President & Publisher of The Providence Journal and Group Publisher and President of GateHouse New England (GHNE) – and Arwady, Publisher and CEO of The Republican in Springfield, Mass. were aiming to inspire colleagues to get creative and begin considering unique ideas to generate new sources of revenue.
Meyer stepped right up challenging those attending the session "to step back and think about purpose."
Meyer said when he thinks about a revenue prospect or project, he asks himself a few key questions: does this new business align with who we are? – does his company's involvement help small businesses succeed? – What does it do to help staff or staff growth – and does it give back to the communities they serve in meaningful ways?
He said the success of Gatehouse and his properties rely on talented staff and leadership who make a commitment to an overarching goal, and who embrace endurance, resilience, and perseverance.
"That's what it takes to drive a successful news organization," Meyer said.
He said Gatehouse restructured to be revenue focused, and urged newspaper executives and lead management in the room to "do your own organizational check-up."
"Focus on revenue and then drive it," Meyer said.
He said Gatehouse helps support its staff by "investing a lot in sales training group-wide."
"It takes a holistic approach to drive success," he said, adding that his company offers a dynamic digital marketing suite; hosts creative promotions to build email lists, and drives foot traffic and revenue with a two-tiered approach – through consistent branding and using the right tools like giveaways, games, and events to create excitement.
"Events are big for us," Meyer said, adding his company hosts over 30 across New England generating $2 million in annual revenue. Some of the most popular are 'best of' events that do well at engaging local businesses, and high school all-star events that draw a different community audience altogether.
Meyer closed his segment reminding newspaper decision makers, "don't lose sight of tried and true," reminding them that even been-there-done-that programs like "post-its" are still helping pay the bills at Gatehouse and his papers.
Arwady touted the growing popularity of revenue generating promotions at his family-owned company that publishes The Republican and hosts MassLive.com.
He was happy to report his company was seeing more direct return for journalism – "Growing a digital audience can grow money," he said, but it's "good journalism that drives the audience."
He said the benefits of having the second largest website in New England after BostonGlobe.com – masslive.com "helps advertisers reach the eyeballs they want to drive their business." Arwady said the sophistication of his company's digital and ad products are gaining more traction by the minute.
A recent Republican 'best of' generated 76,000 web votes and prompt publication of a special section where winners buy ads and then tickets to the dinner. "That event generated $19,800 in tickets sold," he said.
Turning back to a table laden with promotional publications, Arwady kept stepping forward showing off various products like books that highlight all ethnic groups in the communities his company serves.
Town Anniversary books are another successful revenue source, Arwady said. They can highlight, "every church, town, and local landmark – people will sponsor it, and people will buy it," he said.
Arwady also showed off profitable niche publications like wedding guides and travel guides but he shared Meyers enthusiasm for traditional revenue tools like 'post-its," and A1 or section fold-over ads.
His company also derives measurable revenue from seemingly drier sources including client products like a recently published utility company master plan, and print items supporting a new banking center.
"These pay the salaries of journalists," Arwady said, waving several publications in the air enthusiastically.
Arwady also showed off his company's Hispanic newspaper 'El Pueblo Latino' – various Real Estate mags and periodicals in which agents can advertise free. "We get paid when the house sells," he added.
Over the last five years, Arwady is seeing an average $119 upcharge from selling various extra obituary services, including plaques sent to surviving family members – all through a partner vendor.
Tapping a brand new trend in Massachusetts, legalized recreational cannabis, Arwady said his company "just hired a cannabis marketing expert from California," and that both his paper and website are seeing new revenue from running marijuana ads.
A cannabis event is also in the works, that Arwady believes will be ultimately successful, and he is mulling doing a digital newsletter around cannabis on the website.
Arwady said his company's latest pilot involves partnering with a digital purveyor that has installed a network of 100 screens providing in-store video with news and ad content.
He believes selling targeted advertising over these screens "will be a $1 million product for us," and his company has enough confidence that it has budgeted $400,000 for the start-up phase.
In closing, Arwady implored attendees to look across both traditional and creative landscapes.
"We're getting more revenue out of things we've always done – plus new and crazy things," he said. "We're all fighting gravity – so we have to be nimble and creative."
Following this session, NENPA President Phil Camp of The Vermont Standard remarked that Arwady and Meyer presented a "most exciting presentation."
"I don't know how typical we are as a smaller paper, but we can't change, change – we need to learn how to accommodate it," Camp said. "In this session we learned about a number of ways to do it. Certainly some of the promotions being done by larger companies like Peter's may not be the right fit for single smaller papers, but there were a lot of things I heard about that could complement a lot of our smaller papers."
The NENPA president said he would never want to give up his Vermont Standard in its traditional form, "but at the same time, a lot of smaller papers won't survive without new ideas – even non-traditional things."
By John Voket eBulletin Contributor
John Voket is an Associate Editor at The Newtown Bee in Connecticut, Director of Public Affairs for Connecticut's Connoisseur Media radio stations, and 2018-19 President of NENPA.