The Donald W. Reynolds Journalism Institute is now accepting 2021-22 RJI Fellowship applications from individuals or organizations with an innovative journalism project idea that could also benefit the industry.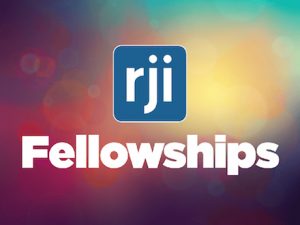 Potential project ideas could include devising new strategies or models to solve a problem, building new tools, creating a prototype, or advancing a prototype, so it's ready to launch.
This year's fellowship projects address the increasing challenges in covering climate change, unpublishing, harassment of marginalized journalists and more.
RJI will be hosting its 15th class of fellows in 2021–22. Applications are due Dec. 18, 2020.
Since launching in 2004, the fellowship program has hosted a wide variety of entrepreneurs and innovators that have come from different backgrounds including large legacy newsrooms and small nonprofits.
"Our fellows are trailblazers, creative thinkers, determined doers and great partners," says Randy Picht, RJI's executive director. "If that sounds like you, then it's time to apply."
RJI's eight-month fellowship is a flexible program with three types of fellowship options — residential, nonresidential and institutional that give fellows the time, space and resources they need to work on projects.