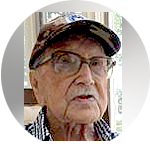 Raymond W. Rancourt, 98, of Arlington, Va., formerly of Groton, Conn., died Aug. 25 at Sunrise of Arlington assisted living center.
Rancourt was employed at The Day of New London, Conn., for 31 years. He began as a reporter, covering the town of Groton in the late 1950s and early 1960s. He later became a copy editor and wrote a well-known column on fishing, one of his favorite pastimes. He retired from the Day in 1979.
After his retirement, Rancourt was a member of the representative town meeting of Groton, where he served five terms.
He also authored two books, "Shennecossett: The History of a Golf Course" and "Lou Bayer, Guardian of the Outdoors."
He leaves two children, Linda and Michael, and two grandchildren, Thomas and Emily.
The obituaries were written, at least in part, from published reports by Bulletin correspondents Ashleane Alabre, Elizabeth Allen, Nimra Aziz, Alexander Frandsen, Nico Hall and Georgeanne Oliver, undergraduate students at Northeastern University.