By Abby Skelton, Bulletin Staff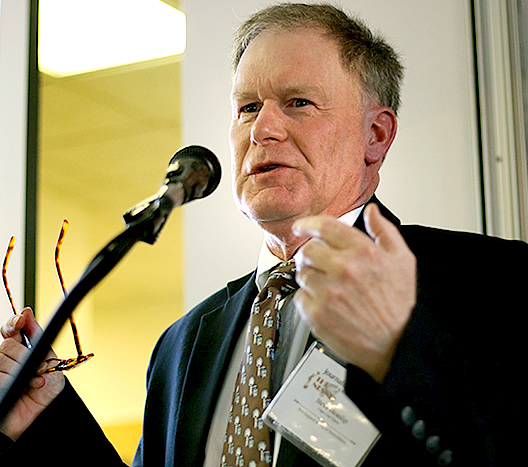 Steve Heaslip, chief photographer of the cape cod times of hyannis, mass., delivers his acceptance remarks after receiving the master photographer award.
The New England Society of News Editors (NESNE) annual awards ceremony this year featured the familiar in recognizing recipients of its usual honors. The ceremony also featured a first: news awards name-modeled after the Oscars — the NESNEs.
Those recognized at the ceremony Thursday, April 21, ranged from high school and college students and a college journalism educator to a young journalist on the rise to accomplished journalists at the top of their field.
Fittingly, the winner of one of the ceremony's most prestigious awards, a retired veteran journalist, chose to give advice to young journalists as part of her acceptance speech.
Karen Bordeleau, retired executive editor and senior vice president of The Providence (R.I.) Journal, received the Judith Vance Weld Brown Award.
Bordeleau is the 16th winner of the annual award, given to a woman in journalism who exhibits the pioneering spirit of the award's namesake, who was NESNE's first female president and a longtime executive and editor at The Herald of New Britain, Conn.
Bordeleau was the first female executive editor of the Providence Journal since its founding in 1829. Bordeleau was awarded the Yankee Quill Award in 2014, and in 2013 was named one of the "Top 10 Women to Watch in the U.S. Media" by Editor & Publisher.
She was described in her introduction as having a "fierce determination to protect the public's right to know."
At the beginning of her acceptance remarks, Bordeleau said that "our journalism is the only thing that keeps the government in check."
She then offered five pieces of advice to young journalists:
1. "What you do matters."
2. "Surround yourself with journalists that are better than you … If you are the smartest person in the room, then you are in the wrong room."
3. "Think way, way, way outside the box … Do not be afraid when your editor says, 'Do different'."
4. "We have to figure out how to tell average citizens that journalism matters … because there is a difference between media and journalism."
5. "You can do it all, and do it all well … You just can't do it all perfectly – that's why we have copy editors."
NESNE's Master Photographer and Master Reporter awards are given in recognition of a lifetime of achievements, excellence, and service to New England reporting.
Steve Heaslip, chief photographer at the Cape Cod Times of Hyannis, Mass., won Master Photographer honors,
Linda Corcoran, managing editor of the Times, nominated Heaslip for the award.
Corcoran said Heaslip "blends the science and art of photography to make what we call photojournalism," which drew a laugh from the audience of about 80 people.
Heaslip told an anecdote about photographing and bonding with children in a park. Heaslip said he was lucky to have a job where he gets paid to talk to kids about penny candy.
Josh Kovner, a reporter at The Hartford (Conn.) Courant, received the Master Reporter Award.
John Ferraro, editor of the Courant, nominated Kovner and said in introducing him that "his reporting changes people's lives."
Kovner recently wrote an enterprise piece on the lives of developmentally disabled people in Connecticut, and his work covering the Sandy Hook Elementary School shootings in Newtown, Conn., was nominated for a Pulitzer Prize.
Kovner said: "We do our best work when we have to keep topping it … That's why I love this job."
William Kole, New England news editor of The Associated Press, nominated Collin Binkley for the Rising Newsroom Star award. Binkley is a journalist at the Associated Press bureau in Boston. Kole said Binkley "epitomizes accountability journalism."
"Colin is a pit bull, and his bite is worse than his bark," Kole said.
The Rising Newsroom Star award is given to a journalist who shows great potential and has demonstrated outstanding reporting and writing skills early in his or her career.
Binkley told an anecdote about one of his first journalism internships: "An editor once asked me why I want to be a reporter, and it wasn't a rhetorical question. That was seven years ago, and I had no idea how to answer the question … but now I answer that question every day.
"There are always stories that no one else is telling that hold leaders accountable … They are vital to their readers … It is a reminder that our work is just as important as ever," Binkley said.
Eleven journalists were the inaugural winners of the NESNEs in its 10 categories.
The NESNEs were awarded to the winners among the five nominees in each of the 10 categories, ranging from best news photo to best watchdog or neighborhood reporting story. The nominees were chosen from first-place finishers among broad award categories in the New England Newspaper and Press Association's Better Newspaper Competition, announced at NENPA's winter convention in February.
The winners of the NESNEs are:
• Best News Photo: Steven King, photographer at Worcester (Mass.) Magazine, for Chasing Ebola.
• Best Sports/Feature Photo: King, for Grave Diggers
• Best Video: Eva Sollberger, senior media producer at Seven Days of Burlington, Vt., for Stuck in Vermont: Danforth Pewter Turns 40
• Best Digital Innovation: John Reddy, copy desk chief and news editor, and Carlos Virgen, digital news director, both at The Day of New London, Conn., for The Cost of Freedom
• Best Sports Coverage: Taylor Vortherms, arts editor at The Ellsworth (Maine) American, for Ellsworth's Robin Emery: Women's Running Pioneer
• Best Opinion or Commentary Writing: Amy MacKinnon, editorial page editor at The Patriot Ledger of Quincy, Mass., for Evelin Valibayova Has a Right to be Found
• Best Hard News/General Reporting Story: Kathleen McKiernan, staff reporter at The Recorder of Greenfield, Mass., for New Law, New Partnerships
• Best Short-form Feature Reporting Story: Sean Horgan, reporter at the Gloucester (Mass.) Daily Times, for The Cape Ann Fallen
• Best Enterprise/Long-form Reporting Story: Doug Fraser, reporter at the Cape Cod Times of Hyannis, Mass., for Turtles Everywhere, and a Giant Emerges
• Best Watchdog or Neighborhood Reporting Story: Ann Baldelli, general assignment reporter, and Colin A Young, staff writer, both at The Day of New London, Conn., for Taken Land Yields Little for City
Besides the first of the NESNEs being added to the ceremony, this is the first year that the New England Journalism Educator of the Year, presented each year for the past five years, has been presented at the NESNE awards event.
The New England Journalism Educator of the Year was awarded to Marty Dobrow, a professor of communications at Springfield (Mass.) College.
Dobrow was nominated for the award by his longtime colleague, Ann Herzog, dean of the School of Arts, Science and Professional Studies at Springfield College.
The award is given to an educator "who is doing outstanding work in preparing the aspiring journalists that will lead our news organizations into the future."
Dobrow said the award was a "humbling affirmation" of his life's work.
"Hard work is where the good work is," Dobrow said. He encouraged the young members of the audience to "do the hard work" of journalism.
The Quinnipiac Chronicle of Hamden, Conn., was presented the New England College Newspaper of the Year award. Seven staff members of the Chronicle attended to accept the award.
The first and second runners-up were, respectively, The Free Press of Boston University and The Harvard Crimson of Harvard University. Honorable mentions were given to The Summit of Stonehill College in North Easton, Mass.; The Mirror of Fairfield (Conn.) University and the Bowdoin Orient of Bowdoin College in Brunswick, Maine.
The Journalism Education Foundation of New England, an affiliate of the New England Newspaper and Press Association, awarded six scholarships of $1,000 each to high school and college students who plan to pursue a career in journalism.
The 2016 scholarships were awarded to Matthew Couture of Emerson College in Boston; Amy McKeever of Stonehill College in North Easton, Mass.; Amanda Morris of New York University; Joshua Kery of Milton (Mass.) High School; Melanie Kos of Holyoke (Mass.) High School; Andrew Young of Stamford (Conn.) High School.
Couture, Kery, and McKeever were present to accept their scholarship awards.
The NESNE awards ceremony was held at the New England Newspaper and Press Association offices in Dedham, Mass.
The Samuel Adams Brewing Company of Boston and AT&T were sponsors at the event.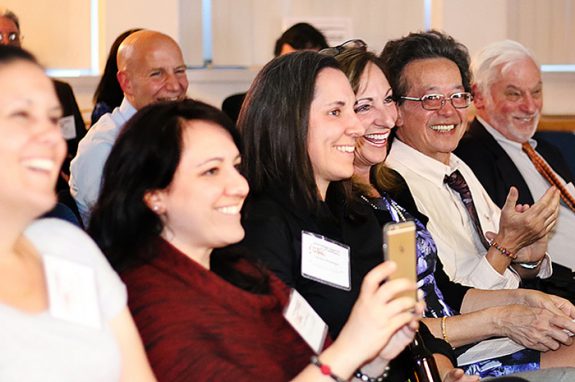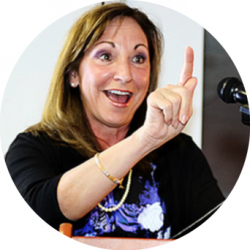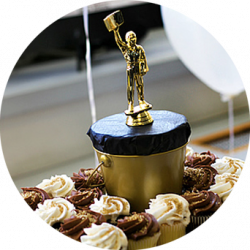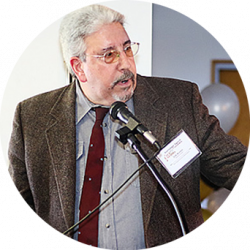 'We do our best work when we have to keep topping it … That's why I love this job.'
–Josh Kovner, Reporter
Hartford (Conn.) Courant,
Recipient, Master Reporter Award
Find the list and photos of:
> Individual award winners
> The NESNEs winners
> Student award winners