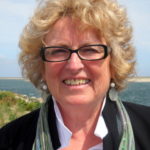 Veteran journalist Nancy West founded the nonprofit New Hampshire Center for Public Interest Journalism, which publishes the daily online news website InDepthNH. org three years ago. (Take a minute and bookmark your phone and computer, yes, right now, and click often, please.)
West shares all original news reporting with other news outlets for free. Funding comes from grants, individuals, and advertising.
During her 30 years as a reporter/editor at the New Hampshire Union Leader, West won many awards for government and investigative reporting. West uncovered and put a halt to a secret file docketing system at the New Hampshire Supreme Court. She also exposed a secretive, broken system in New Hampshire that is supposed to make sure defendants are notified before dishonest police officers testify against them.
She received a Fund for Investigative Journalism grant to investigate the problem nationally, which revealed that most states – like New Hampshire – also protect police personnel files at the expense of defendants' constitutional right to all of the evidence in their favor, which can — and does — cause convictions to be overturned when such failures are finally uncovered.
Since launching InDepthNH.org, West has exposed troubling conditions at the New Hampshire state prison Secure Psychiatric Unit where difficult to manage mentally ill patients from the state psychiatric hospital are locked up with criminals even though they haven't committed a crime.
West teaches investigative journalism at the New England Center for Investigative Reporting's summer program for high schoolers at Boston University and frequently speaks to college journalism classes — and just about anybody who will listen.
West is passionate about holding government accountable, giving voice to marginalized people, places and ideas and training the next generation of journalists.