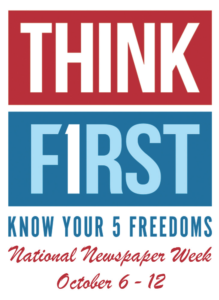 This 79th annual National Newspaper Week observance will be held October 6-12. The event is a recognition of the service of newspapers and their employees across North America and is sponsored by Newspaper Association Managers. This year's theme is "Think F1rst — Know Your 5 Freedoms"
PLAN TO CELEBRATE National Newspaper Week by downloading the materials and devoting as many column inches as possible to reinforce the importance of Newspaper to your communities.
PLEASE ALSO MAKE IT LOCAL by editorializing about your newspaper's unique relevance. This can be about your duties as government watchdog, your role as a community forum and coverage of community events, publication of timely public notices, etc.
Since the principle is timeless, the materials, new and archived, remain on the website and accessible year-round as a continuing resource.
Thank you for supporting National Newspaper Week. You already know there is power in association. And the same principle holds when associations like ours band together to provide even greater impact — both directly to newspaper members locally and collectively to the overall industry nationwide.
Newspapers are encouraged to use one or all of the ads from this year's Think F1rst ad campaign in their newspaper. Feel free to start running the ads during National Newspaper Week and continue them in the days and weeks that follow.
Click here to access a Dropbox folder with FIVE DIFFERENT ads in SEVEN SIZES. Pick the size that is right for your newspaper.