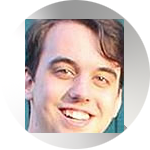 Bailey Chevalier Putnam, 21, of Weymouth, Mass., died unexpectedly June 9.
He was an intern at The Boston Globe. Previously under Northeastern University's cooperative education program, Putnam was a sports reporter for The Patriot Ledger of Quincy, Mass. He was sports editor for The Huntington News, the student newspaper at Northeastern. He covered the men's and women's NCAA ice hockey teams there.
Putnam leaves his parents, Stephen and Caren; a sister, Taen; his grandparents, Nancy and John.
The obituaries were written, at least in part, from published reports by Bulletin correspondent Nimra Aziz, an undergraduate student in the Northeastern University School of Journalism.