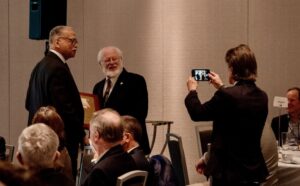 A new generation of journalists is leading The Bay State Banner in the wake of its sale on Feb. 28 to a new Black ownership team.
Melvin B. Miller, the founder, owner, editor, and publisher of the influential Boston-based weekly for the last 57 years sold the paper to a group headed by veteran WBZ-TV video journalist Ron Mitchell and filmmaker Andre Stark, who has produced news magazine and documentary features for WGBH-TV.
Miller was honored during the 2022 New England Newspaper Convention with a New England Academy of Journalists Yankee Quill Award, recognizing his lifetime achievements both inside and outside the newsroom and for the broad, long-term good he provided to journalism across New England.