Photographers advised to present
only 'the good stuff,' 'tell the story'
By Leila Habib
Bulletin Correspondent
"Who are y'all?"
Within moments of entering the room, those attending Robert Holt III's workshop titled "You're only as good as your last photo" were prompted to move to the front of the room and share who they were.
"Bad news is, folks, I left my hearing aids at home, so you can say all sorts of nasty stuff," Holt, the former director of photography at the St. Louis Post-Dispatch, said during the workshop at the recent New England Newspaper and Press Association winter convention.
Holt began by sharing anecdotes from the beginning of his career. From his career beginning as a photo lab technician because "all the photographers were too good to do copy work," to playing cards with President Jimmy Carter, leading to a position covering Carter in the White House, Holt's stories all emphasized the need to seize opportunities as they come.
"I covered Carter because I played cards with him," Holt said. "I got to know the man just by coincidence and that made me a better photographer in Washington than a lot of other people."
Holt then displayed and commented on photos from NENPA's New England Better Newspaper Competition. He was a judge for the photo contest.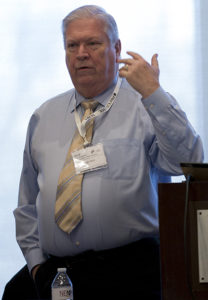 One of the photographers who earned Holt's praise was Peter Pereira of The Standard-Times of New Bedford, Mass.
"I bet he knows every photograph that could be shot around the area The Standard-Times covers. He hasn't shot it yet but he knows every angle that exists," Holt said. "He's always watching for the right angle. So if someone needs a picture and something's happening in the area, he'll go and put himself in the right position to shoot that picture."
As Holt scrolled through the photographs, some of his comments during the workshop were limited to "nice, cute, very nice," but a few photographs sparked anecdotes and pieces of advice.
'Give them the good stuff'
Throughout the workshop, Holt discussed the necessity for a photojournalist to edit his or her work first before anyone else sees it.
"If it's not sharp, well-exposed, and well-composed, it's trash," Holt said. "Don't turn it in … You're the image mechanic; (the editor is) the word mechanic. Give them the best image you got, and they might just use it."
Space is valuable in print publications, leaving writers and photographers fighting for space for their work to be included and further necessitating the submission of only photos that would be worth that space.
"If your photograph isn't worth 460 words, it shouldn't be published," Holt said, referring to the typical amount of words replaced by a standard photo in a print publication.
The necessity to publish only "the good stuff" extends to online work, where the unlimited available space can be attractive.
"If you come home and choose one or two photos, put it in the paper, and put everything else you shot on the Web, you're an idiot," Holt said. "When people go online to look at your pictures, they have to edit your junk. Give them the good stuff. Don't give them a lot of pictures just because you were there. Don't waste their time."
'Tell the story'
A photograph of a truck hanging off a bridge provoked Holt to tell an anecdote about a mistake he made as an editor. Holt had two photos to choose from: a headshot of the entire scene and a close-up of the rescue, which Holt referred to as "art."
"I was so excited about the art that I put the art on the front page, and on the jump I put the literal picture," he said. "I forgot my job. I got wrapped up in being an artist, and I forgot to cover the news to tell the people what happened."
In times of tragedy, it can be hard for a photographer to tell the story without feelings of exploiting the subjects, Holt said.
"Was I taking advantage of the people looking back at me saying in their minds ' … Why is he here when I'm in my worst situation, sticking a camera in my face?'" Hold asked.
After photographing Charles Manson while he was in prison, Holt realized the necessity of photographing the good, the bad, and everything in between.
"When I photograph things, as ugly as they might be, at least I was helping inform people in the real world what was real and what was not," Holt said.
Holt also discussed the danger of getting emotionally attached to a subject.
"Don't feel sorry for them. Do your job. The minute you feel sorry for somebody, you forget what your job is. Shoot on the street, cry in the dark," he said.
Holt also gave technical advice to help photojournalists tell their stories more effectively, from not underestimating an iPhone camera to making sure that the image is square.
"Remember, your job is to tell the story. Tell the story," Holt said.