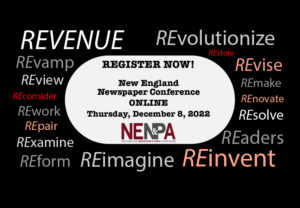 We are excited to announce the return of the New England Newspaper Conference on Thursday, December 8, 2022. We have a top-notch program of sessions and speakers that will cover the most relevant topics to the health of our industry today!
This year's fall conference will be a one-day event, held online, with sessions throughout the day.
We'll also announce the winners of the New England Newspaper of the Year, Publick Occurrences, Allan B. Rogers Editorial Award, New England First Amendment Award, AP Sevellon Brown New England Journalist of the Year, and Bob Wallack Community Journalism Award. Click the button below for more details!