On July 4, the Free Speech Center launched a national nonpartisan and nonprofit educational effort to build understanding and respect for the five freedoms of the First Amendment featuring celebrities talking about the importance of freedom of the press, speech, and other freedoms of the First Amendment.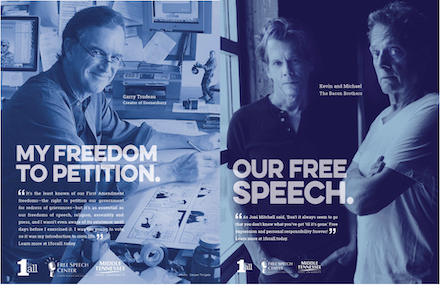 The campaign directs the public and particularly students to 1forall.today, where they can learn more about the First Amendment.
Ken Paulson, the former editor of USA Today and current director of the Free Speech Center, came up with the idea for launching the national campaign. USA Today and the Associated Press are national supporters and have already committed more than $1 million in donated ad space. The campaign is seeing more than a million impressions a week from participating publications.
According to Paulson, a third of Americans cannot name even one of the five freedoms guaranteed by the First Amendment.
Join with newspapers and media organizations around the county in an ad campaign to change that. The ads feature artists, authors and athletes discussing the five freedoms – free speech, a free press, religious freedom, the freedom to peaceably assemble and the freedom to petition the government.
The ads refer readers to the website 1forall.today and are available to download for your print and online publications.
How can your publication build understanding?
Journalists: First Amendment issues crop up all the time in America's communities. Please use this news coverage to truly inform your readers and audience about how these five freedoms shore up our democracy.
The 1forall campaign is here to help at their news hotline: (615) 898-2195. Journalists only, please.
Media: Become a friend of 1 for All (no check required) and consider running ads (print, TV, radio and web) to support the First Amendment.
When the campaign hears from your publication, they will add you to the list of supporters.
To pledge your support please take a moment to drop a note to Trish Luna at trish.luna@mtsu.edu saying you're in.
Visit the 1 for All Gallery to download print and digital ads to show your support for the campaign.
This is a very special effort and it needs support from all of us.
Celebrities that have signed on so far include: Kevin and Michael Bacon, Kane Brown, Rosanne Cash, John Cooper, Billy Ray Cyrus, Colton Dixon, Mary Gauthier, Scott Hamilton, Jason Isbell, Loretta Lynn, Kathy Mattea, Brad Paisley, Ann Patchett, Margo Price, Amy Ray, Darius Rucker, Ketch Secor, Aubrie Sellers, Ruta Sepetys, Michael W. Smith, and Garry Trudeau.