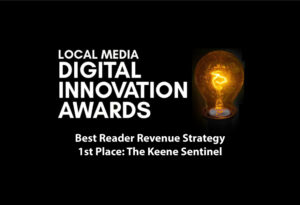 This Local Media Association Digital Innovation contest recognizes the best in local digital media in 16 categories such as best local website, best virtual event, best-branded content strategy, and more. It is a highly competitive contest designed to recognize both large and small media companies for their outstanding and innovative work.
The Keene Sentinel won 1st Place, in the Best Reader Revenue Strategy category. This award recognizes exceptional strategy and execution of a new consumer revenue initiative.
Judge's notes: The Keene Sentinel came up with a creative idea to partner with local businesses and give new subscribers multiple incentives, and the retention rate has been high, even when the offers expire.