Philadelphia Media Network CEO urges ties between newspapers and nonprofits
By Matt Tota, Bulletin Staff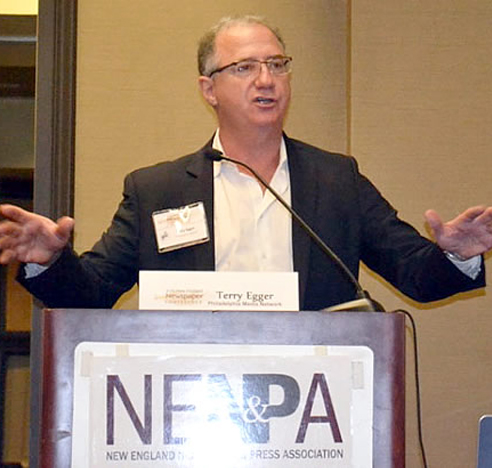 'What do you think is more important to your community's livelihood: the museum, the orchestra, the journalism? All are important, but isn't journalism every bit as important or more than the art museum, and other things that people give to?'
— Terry Egger, Chief executive officer, publisher,
Philadelphia Media Network
A newspaper is as important as a museum or orchestra to the livelihood of the community it covers, and deserves the same level of philanthropic support as those institutions, according to Terry Egger, chief executive officer and publisher of the Philadelphia Media Network.
"What do you think is more important to your community's livelihood: the museum, the orchestra, the journalism?" Egger, a former publisher of the Cleveland Plain Dealer, said. "All are important, but isn't journalism every bit as important or more than the art museum, and other things that people give to?"
Egger was invited to the New England Newspaper Conference Oct. 6 to share his thoughts on paying for the future of journalism through exploring alternative business models. He focused primarily on the benefits of tying journalism to philanthropy, saying that advertising revenue will never again sustain the industry.
He told a group of publishers and editors from throughout New England that philanthropy, while not representing the industry's sole savior, does provide a "meaningful revenue stream" to support and foster projects in innovation and intensive reporting.
To convince nonprofits or donors to write checks, news companies must show them what might happen if the floundering industry fails. That reality sometimes keeps him awake at night, he said.
"If we fail to find a sustainable business model to support journalism, and our credible reports in our communities start to go dark, our investigative work starts to go dark, it's a very, very bad place for us to be," he said. "Most people don't think about that; I think about it all the time."
Egger's experience with nonprofit journalism comes through his role at the Philadelphia Media Network, parent company of The Philadelphia Inquirer, Philadelphia Daily News and Philly.com, which he joined in August 2015. The company has tried to revitalize journalism in Philadelphia with an unorthodox business model. In January, the owner of the company, H.F. "Gerry" Lenfest, donated a majority of his shares to The Institute for Journalism in New Media, a nonprofit, giving it ownership of the three news outlets.
The institute does not have a direct say in the company's day-to-day operations, but can pay for its journalism through contributions and endowment, Egger said. It has also aimed to "create a lab of innovation" and to partner with universities to experiment on new product development, delivery services and revenue models, he said.
The institute, whose board includes representatives of some of the top journalism schools in the country, will also finance specific reporting projects, Egger said.
"If you had art or education writers, you may be able to get funding to endow chairs for that journalism in your operation, thereby offsetting your costs," he said.
Egger acknowledged that the Philadelphia Media Network has a unique business model, but pointed out that the strategies it has used are easily transferable. He urged those gathered at the conference to begin by cultivating relationships with local universities and philanthropists.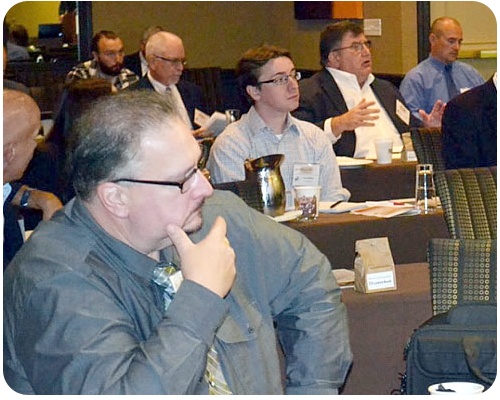 A member of the audience asks a question at Terry Egger's talk.
'We are trying to find a sustainable business model that keeps journalism alive in our communities. It's a matter of how successful we can be going forward in spreading that important value proposition to our readers, our advertisers, our sponsorship partners and, potentially, philanthropy.'
— Terry Egger