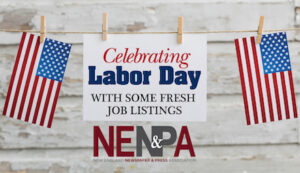 Looking for that next step in your career? Searching for your dream job? What better way to celebrate Labor Day than with some fresh newspaper and journalism job listings throughout New England!
The NENPA job listing page is a great resource to assist in your job search and to post open positions at your organization. NENPA members can post jobs at no cost.
Job listings are updated regularly and often include open positions for journalists, editors, publishers, photojournalists, newspaper ad sales, and more.
Check out some of the latest listings below and follow the links for full job descriptions.
Local News Reporter
The Republican-American, Sunday Republican, and rep-am.com in Waterbury, Conn., seeks a reporter who knows every community deserves quality, important, impactful, and engaging journalism. This opportunity includes a broad range of reporting: town and school news, police reporting, enterprise for deeper dives. Online work, ability to shoot photos, solid clips, and some newsroom experience are a must (solid internships count)…
Staff Reporter
The Portland Phoenix is looking for a reporter who can produce investigative and interpretive stories, write inspiring features, and keep up with local news. The successful candidate should have news writing experience, a relentless curiosity, the ability to attend some night meetings if required, and a reliable vehicle. Familiarity with WordPress, and the ability to produce photos that complete your stories are additional qualifications…
News Reporter
The Daily Hampshire Gazette seeks a full-time news reporter to be part of a hardworking team focused on covering the news of the Pioneer Valley. News reporters share in producing breaking news, community coverage, business, enterprise, investigative, and news feature stories. We all work some evenings, weekends and holidays. Experience with photography and video is a plus, as experience mining a news beat and covering local government. This is a fast-paced, deadline-driven environment requiring strong multi-tasking skills…
Opinion Editor
The Day Publishing Company is looking for a dynamic individual to be the Editorial Page Editor for The Day of New London and theday.com. The position requires strong leadership qualities and collaboration skills and a willingness to take on controversial subjects. The Day has a long history of speaking with a strong voice on issues that impact the local communities it serves, as well as state-wide issues…
Managing Editor
The Provincetown Independent, an award-winning independent newspaper published weekly in print and online, is seeking a Managing Editor. This role involves close collaboration with the Editor to develop each issue and with the Publisher to oversee weekly publishing operations and reports directly to the Editor. The Independent covers the four outermost towns on Cape Cod…
Reporter
Providence Business News, southern New England's leading business publication, is looking for an enterprising, energetic reporter to help cover one of the nation's most diverse business communities. From finance to manufacturing and health care, and government to tourism and technology, Providence and the surrounding region provide an endless variety of stories…
Advertising Sales Consultant
Are you a sales professional who can balance sales & service to existing accounts with hunting & closing new business? Pioneer Valley Media Group is seeking a professional with one to two years of outside sales experience, digital marketing skills, and an understanding of how the evolving media landscape impacts today's business owners. A family-owned company, we publish the Daily Hampshire Gazette, Greenfield Recorder, Athol Daily News, two weeklies, and several websites, delivering the hyper-local news that citizens want, as well as the audience that businesses need. We also have a comprehensive digital services product portfolio, making Pioneer Valley Media the ideal partner for our local business community!
Advertising Sales Representative
Beaver Dam Partners Inc. is the Wareham, MA-based publisher of Wareham Week, Sippican Week, and Dartmouth Week and their companion WeekToday websites. The three papers profitably reach a combined weekly audience of nearly 50,000 readers in five towns. Beaver Dam is now ready to take itself to the next level by hiring its first full-time employee dedicated to advertising sales…
Advertising & Marketing Account Executive
Addison Press is a family-owned and operated independent news organization based in Addison County, Vermont. Our dedicated team publishes the weekly Addison County Independent as well as the Brandon Reporter, each working to serve valuable local news and information to the communities we live and work within. We value our long-held relationships of trust and confidence with our news and advertising contacts and proudly work every day to help our local community thrive. We are seeking a full-time advertising account executive interested in diving into the community…
Advertising and Marketing Representative
The Enterprise is a media company whose mission is to report local news and information to the citizens of the communities in which we live and work. Their trust embodies and reflects the value of our brand. Our business is, in the best sense, intensely local. The Enterprise is hiring an advertising and marketing representative. We are seeking a self-starter ready to seek and close new business and service existing accounts. In this fast-paced industry, it's important that this person be organized, hardworking, and, most importantly, eager for success…