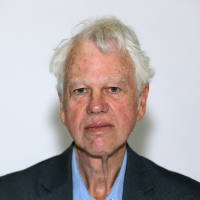 Bob Ryan retired from full–time duty at the Boston Globe in 2012 following a 44-year career in which he covered the Boston Celtics for 14 years, wrote numerous features and was a columnist for his final 23 years. He has also had a three decade affiliation with ESPN.
He is a recipient of the Curt Gowdy Media Award from the Naismith Basketball Hall of Fame, and has received many other lifetime citations, most notably the Red Smith Award for lifetime achievement from the Associated Press Sports Editors and a selection`to the National Sports Media Hall of Fame.
He is also a charter member of the New England Basketball Hall of Fame. He covered 11 Olympics (six summer and five winter) and has covered or attended 32 Final Fours. He is the author of 12 books, including collaborations with Celtics luminaries Bob Cousy, John Havlicek and Larry Bird. His autobiography SCRIBE, My Life In Sports, was published in 2014.