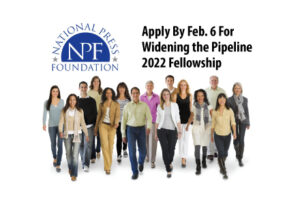 Many newsrooms have tackled urgent social issues with majority white staff—some more successfully than others. The National Press Foundation intends to do its part to address this problem through a "Widening the Pipeline" Fellowship designed to help confront the common lament that "it's hard to find qualified journalists of color."
This is an all-expenses-paid fellowship, from March 2022 to February 2023. Apply by Feb. 6, 2022.
Beginning in March 2022, the once-monthly training sessions will include two in-person gatherings in Washington, D.C. (unless COVID-19 guidelines mandate that all sessions be virtual). Participants must be fully vaccinated to attend the in-person training. NPF will pay for fellows' airfare, hotel, and most meals for the two in-person training's. The estimated time commitment for virtual training, including prep and homework, is five hours per month.
The 2022 program will build on NPF's Paul Miller Washington Reporting and Accountability fellowships, existing partnerships, influential alumni and volunteers to support the growth of these public service-minded reporters. The application is here.
NPF is committed to leveraging its resources and decades of training experience to help grow the pipeline of diverse journalists who will rise to positions of influence in America's newsrooms.
Specifically, NPF will:
Recruit up to 25 young journalists for a 12-month fellowship in the leadership, in-depth reporting, data, and multimedia skills they need to hold governments and corporations accountable and to advance in their newsrooms.
Provide each fellow with individual coaching and mentoring.
Bring fellows to Washington for training, mentoring, and networking sessions with editors.
Survey fellows on promotion, retention, and job satisfaction.