While a couple of changes marked the 2019 NENPA Fall Newspaper Conference – namely a new location at the AC Hotel Marriott in Worcester, MA, and a later start time to help accommodate more attendees – the traditional centerpiece of the event was as exciting and inspiring as ever.
The New England Newspaper Conference Awards Luncheon, with its Newspaper of the Year, Publick Occurrences, New England First Amendment, Allan B. Rogers Editorial, and Bob Wallack Community Journalism awards and recognition of the AP Sevellon Brown Journalist of the Year highlighted the best of the best in content that local and regional newspapers produced over the past year.
NENPA President Phil Camp commented, "I was delighted to be involved and meeting some of the winners."
"I was pleased that all six states' papers were involved," Camp added, "and there seemed to be a good representation of our membership throughout the region."
Linda Conway, NENPA Executive Director added that the awards luncheon is always an inspiring event, and this year didn't disappoint. "The important work that is still being produced by newsrooms – even in these challenging times with reduced staff – is nothing short of amazing," she said. "Recognizing and honoring that work is a privilege."
The Journalist of the Year honor is awarded in honor of Sevellon Brown, the late editor and publisher of The Providence Journal-Bulletin, founder of the American Press Institute, a fellow of the Academy of New England Journalists, and a past president and founder of New England Associated Press News Editors Association (NEAPNEA).
This year's recipient is Shawne K. Wickham, who was recognized for her reporting about mental health and addiction issues for the New Hampshire Union Leader's "Beyond the Stigma" series.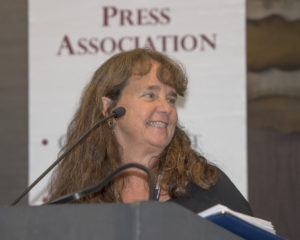 The project was sponsored by the New Hampshire Solutions Journalism Lab at the Nackey S. Loeb School of Communications. It was funded by the New Hampshire Charitable Foundation, the Dartmouth-Hitchcock Medical Center, NAMI New Hampshire, and private individuals.
Wickham told the NENPA Bulletin that covering these critical community concerns represented an "extraordinary opportunity" to look into solutions to the gripping issues around mental health and substance abuse challenges under the auspices of a grant-funded initiative.
"We felt we had done enough writing about the problems and it was time to look at some of the programs that were working to address them," she said. "I got to report about an orchestra that was started by people with bipolar disorder who meet every week to practice and then put on concerts; we looked at recovery-friendly workplaces; and safe syringe programs whose volunteers fan out with not only syringes but other safety and support resources so when those people are ready for help, they will know where to turn."
She also worked on faith-based recovery programs at neighborhood churches, a theater program where those with mental health issues tell their own stories and then put on a play, and a story on a home for new and pregnant moms who are overcoming their addictions as well, Wickham explained.
This marked the first time Wickham ever tackled subject matter related to outcomes, and she said it made such an impression that one local mental health network was already poised to recognize her with their own award of appreciation.
"It was a privilege to tell these stories and to have the work recognized," she added, "and it means the world to me!"
John Flowers Honored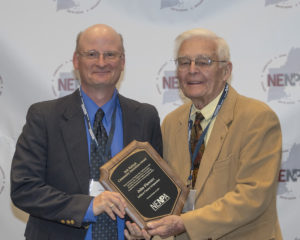 In accepting the 2019 Bob Wallack Community Journalism Award, John Flowers of the Middlebury, VT Addison Independent acknowledged that he never had the pleasure of meeting Mr. Wallack.
"But I am honored to share the stage with him today in spirit," Flowers said. "As Bob would undoubtedly tell us if he were here right now, community journalism is about teamwork. At the Addison Independent, that team is led by editor/publisher Angelo Lynn, who nominated me."
This award recognizes an individual who has an exceptional record of commitment to community journalism, and celebrates the accomplishments of someone who has faithfully served his or her community by playing an active, constructive, and sustaining role in contributing to its quality of life.
Flowers said he is proud to be part of a community journalism team that constantly strives to do their work "accurately and with compassion." His beat could include myriad issues affecting the Independent's coverage area of around two dozen communities – and on any given day could incorporate human services, local and state government reporting, courts, and police agencies.
"Community journalism is about going to work on a Monday and interviewing a house fire victim at 9 a.m., a public works director at 10:30, and a high school scholars bowl competitor at 1," Flowers said. "It's also about looking for the truth in court records, town office archives, and police blotters…making new connections and forging relationships."
Flowers said he is inspired to keep doing what he does because every week presents new and different challenges along with opportunities to set an example for younger colleagues.
"It's about trust, and passing the knowledge and passion along to the next generation of scribes who I hope will maintain our tradition of grassroots journalism," he said, closing with appreciation to "three of my best teammates. my son, Mark, my daughter, Diane, and my wife, Dottie, who's had to spend many an evening alone because her spouse is with a select board, school board, or monitoring election returns."
Editorial & First Amendment Awards
This year's Allan B. Rogers Editorial Award was presented to Jack Spillane, editorial page editor of The Standard-Times in New Bedford, Mass.
As event emcee and fellow journalist Wayne Braverman told luncheon attendees, Spillane's award-winning editorial, "Children crossing border should be kept with parents," brought home the heartrending impact of the Trump Administration's immigration policies by focusing on a local Guatemalan boy and his mother as their husband and father sat in a Georgia jail awaiting deportation.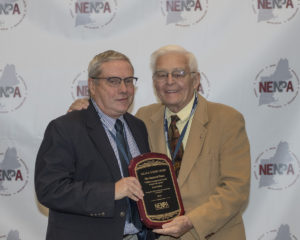 Braverman praised Spillane for writing with power and clarity, making a compassionate appeal that while immigration reform efforts grind on, the rending apart of nuclear families must stop immediately.
"That is a heinous policy," he writes, "and not worthy of America."
The New England First Amendment Award was presented to Foster's Daily Democrat, Dover, NH, a New England newspaper that exhibited unique leadership on First Amendment issues.
When a county attorney in New Hampshire attempted to compel a local reporter to release all his notes and materials related to an unpublished jailhouse interview, this fundamental principle of independence suddenly appeared vulnerable, Braverman related.
"The danger in the state compelling the release of this unpublished material is that it has the potential to turn our news reporters into agents of the state, which will badly undermine our credibility with the public and news sources," explained Howard Altschiller, executive editor at Seacoast Media Group where the reporter Brian Early worked.
Through a series of legal challenges, Seacoast Media Group successfully defended its First Amendment right to withhold Early's notes.
"Rather than acquiescing to the county attorney's demand, the media group dug in and protected its independence," Braverman announced, "a victory not just for its newsroom, but for the First Amendment."
Publick Occurrences
NENPA's Publick Occurrences Awards recognize the very best work that New England newspapers produce each year — whether it's individual or team stories, series, spot news coverage, columns or photojournalism that ran in print and/or online.
The award was established in 1990 to recognize individual and team merit at New England newspapers to mark the 300th anniversary of the founding of Publick Occurrences, the first newspaper published in America.
The list of 2019 Public Occurrences winners includes:
The Eagle-Tribune of North Andover, MA captured two Publick Occurrences honors for its coverage of the "Merrimack Valley gas disaster," as well as its reporting on the afterrmath of a "Sexual assault at North Andover High."
Seven Days of Burlington, VT whose series "Give and take" examined every aspect of nonprofits big and small, including a first-person account of setting up a 501(c)3.
The Republican of Springfield, MA and its coverage of "Springfield Police Department woes" that exposed what was described as a "vexing saga" of official malfeasance.
Cape Cod Times of Hyannis, MA for its package entitled: "Pilgrim closes" – detailing the closure of the Pilgrim Nuclear Power Station.
Seven Days of Burlington, VT and its series: "Hooked: how so many Vermonters got addicted."
New Hampshire's Concord Monitor and its series "Finding hope," detailing one family's journey through the despair that followed the suicide of a 14-year-old son, while more broadly examining the issue of youth suicide. The Monitor also received a second Publick Occurrences Award for its four-part series on the problems and societal impact of domestic violence entitled "Fighting back."
The Daily Item of Lynn, MA which produced 23 stories, sidebars and info graphics as part of its "Hunger: hiding in plain sight" series.
Worcester Magazine, that tackled the controversial issue of teaching sex education in public schools in its reporting entitled: "How sex ed really died."
The Sun Journal of Lewiston, ME was recognized for "Fear in Lewiston: 'A perfect storm'," which looked at community policing and other steps the Lewiston police were taking to gain the community's respect.
The Herald News of Fall River, MA whose staff delivered thorough, thoughtful coverage on the lead-up to, and indictment of "Mayor Correia."
The Bennington Banner in Bennington, VT, whose staff produced comprehensive coverage of "The closing of Southern Vermont College."
The Sun, Lowell, MA, and its coverage entitled "People can just be so cruel" series on the expanding social media problem of young people who are targets of online bullying and body shaming.
The Worcester Business Journal's reporting on "Tax Breaks: paying for growth," a series exploring the cost-effectiveness of municipal tax break programs.
New Hampshire's Keene Sentinel and reporter Sierra Hubbard received the final 2019 Publick Occurrences recognition for "BetterBone Inc.," which judges stated "likely saved hundreds of area residents from getting ripped off" by an entrepreneur with an out of state criminal history, and numerous personal and professional blemishes who was poised to move a new business into a converted local mill facility.
Newspapers of the Year
The awards luncheon is also built around recognizing the 2019 Newspaper of the Year recipients. This competition is the only distinction of its kind in the newspaper industry judged by audience members.
Readers evaluate each paper's relative strengths and weaknesses, including: quality of reporting and writing; use of photos; design and presentation; digital offerings; as well as overall utility and value.
Among other attributes, those readers are asked to determine:
Does the newspaper inform, educate, entertain, inspire, motivate, lead?
Does it reflect and care about the community it serves?
Does it put the interests of the reader first? Is it unique or special in some way?

Categories are small, medium and large weeklies; small, medium and large dailies; small, medium and large Sunday/weekend publications; along with specialty publications.
2019 Newspaper of the Year Awards and Distinguished Newspaper designations went to:
Weekday Newspapers
Circulation up to 5,000: The Bristol (CT) Press
Distinguished Newspapers – Herald, New Britain, CT; The Chronicle, Willimantic, CT
Circulation 5,000-10,000: The Daily News, Newburyport, MA
Distinguished Newspapers – Record-Journal, Meriden, CT; Daily Times, Gloucester, MA
Circulation 10,000-20,000: The MetroWest Daily News, Framingham, MA
Distinguished Newspapers – The Berkshire Eagle, Pittsfield, MA; Concord (NH) Monitor
Circulation 20,000-35,000: Republican-American, Waterbury, CT
Distinguished Newspaper – Telegram & Gazette, Worcester, MA
Circulation 35,000+: The Republican., Springfield, MA
Distinguished Newspapers – The Providence (RI) Journal; Hartford (CT) Courant
Sunday Newspapers
Circulation less than 10,000: The MetroWest Daily News, Framingham, MA
Distinguished Newspapers – Record-Journal, Meriden, CT; The Sun Chronicle, Attleboro, MA; The Herald News, Fall River, MA
Circulation 10,000-20,000: The Berkshire Eagle, Pittsfield, MA
Distinguished Newspapers – The Eagle-Tribune, N. Andover, MA; The Standard-Times, New Bedford, MA
Circulation 20,000-40,000: Telegram & Gazette, Worcester, MA
Distinguished Newspapers – Cape Cod Times, Hyannis, MA; The Day, New London, CT
Circulation 40,000+: The Republican, Springfield, MA
Distinguished Newspapers – Hartford (CT) Courant; Sunday Journal, Providence, RI
Weekly Community Newspapers
Circulation less than 5,000: Marshfield (MA) Mariner
Distinguished Newspapers – Provincetown (MA) Banner; Milton (MA) Times
Circulation 5,000-9,000: Mount Desert Islander, Bar Harbor, ME
Distinguished Newspapers – Addison Independent, Middlebury, VT; The Inquirer and Mirror, Nantucket, MA
Circulation 9,000+: The Martha's Vineyard Times, Vineyard Haven, MA
Distinguished Newspapers – The Ellsworth (ME) American.; Seven Days, Burlington, VT
Specialty Publications
UpCountry, The Berkshires of Massachusetts, So. Vermont
Distinguished Newspapers – Providence (RI) Business News; Mainebiz, Portland, ME
2019 New England Newspaper Awards Photo Gallery
NENPA members and prospects are reminded to save the date for the 2020 New England Newspaper Convention. The 2020 convention will be held on February 7-8, 2020 at the Renaissance Boston Waterfront Hotel. More details to come.

By John Voket eBulletin Contributor

John Voket is an Associate Editor at The Newtown Bee in Connecticut, Director of Public Affairs for Connecticut's Connoisseur Media radio stations, and 2018-19 President of NENPA.