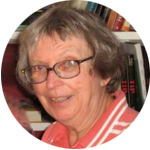 Shirley Elder Lyons, 85, of Portsmouth, N.H, died Sept. 18 of complications from Parkinson's disease.
Lyons was a part-time reporter for The Boston Globe's New Hampshire Weekly after she relocated to Sandwich, N.H., in 1981.
Before that, she had been a reporter in Washington, D.C., for The Washington Post, and then for the former Washington Daily News and the former Washington Star.
Lyons co-authored two books: "Tip, a Biography of Thomas P. O'Neill Jr., Speaker of the House" and "Interest Groups, Lobbying and Policymaking."
She was a writer and co-editor of a book about the history of Sandwich, published in 1995 by the Sandwich Historical Society.
Lyons leaves a stepdaughter, Jennie; a stepson, James; six grandchildren; three great-grandchildren; a sister; a stepbrother.
The obituaries were written, at least in part, from published reports by Bulletin correspondents Ashleane Alabre, Sophie Cannon, Jenna Ciccotelli, Nico Hall, Georgeanne Oliver, Julia Preszler and Thomas Ward, undergraduate students at Northeastern University.