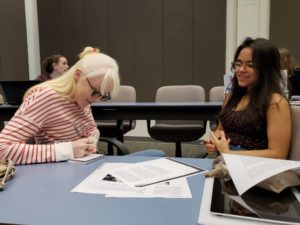 This year will mark the 32nd year the New England High School Journalism Collaborative will offer the summer journalism workshop for high school students. The program is a great opportunity for aspiring young students interested in pursuing a career in journalism.
Program participants learn to report, write, and edit for a newspaper, and produce multimedia projects for a website. Professional reporters, editors, photographers, and designers from New England news organizations also work with the participants throughout the duration of the program to offer insights and a window into a career in journalism.
The summer workshop is a unique opportunity for students to gain hands on experience in journalism. Students will be sent on assignments in the Boston area and will be exposed to working on a deadline to create their own newspaper.
The 2019 workshop will be held from June 22 to June 29. Students selected for the program will be housed at Regis College in Weston, MA and will work from a newsroom at Simmons College in Boston .
Interested students can apply by filling out an online application, emailing a headshot to c.panek@nenpa.com and submitting a hard-copy transcript and teacher recommendation by mail. The deadline for applications is February 26, 2019.
Material should be mailed to:
NEHSJC
c/o New England Newspaper and Press Association
1 Arrow Drive, Suite 6
Woburn, MA 01801
For more information about the New England High School Journalism Collaborative and the Summer Workshop please visit www.nehsjc.org.