By Alison Berstein, Bulletin Staff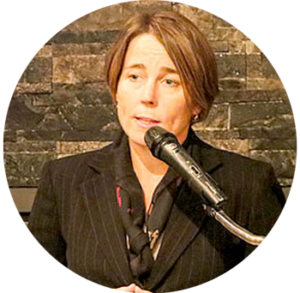 'My hope is that we see  agencies responding to the law.'
— Maura Healey, Massachusetts Attorney General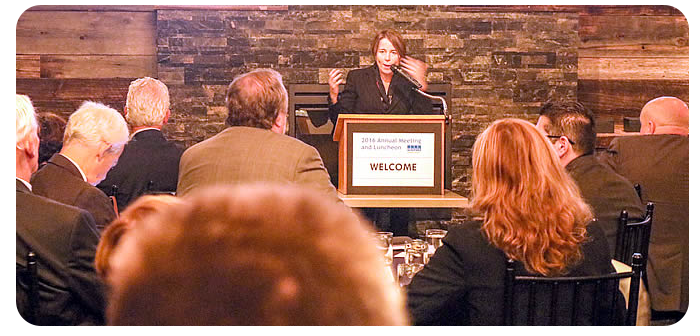 'I support any effort from this industry. We're a resource for you and your teams covering these events. We need informed leaders.'
–Maura Healey
Massachusetts Attorney General Maura Healey told the Massachusetts Newspaper Publishers Association annual meeting that she sees promise in the public records reform law enacted in Massachusetts this year.
Healey discussed the public records reform, which takes effect Jan. 1, at the MNPA annual meeting Friday, Dec. 2. The law is designed to enable more efficient public access to government records.
"The heart of it is making sure that the public feels like they know what's going on," she said.
The reform aims at protecting the rights of requesters when agencies wrongfully deny them records. In the case of such denials, courts may award lawyers' fees. The law also calls for agencies and municipalities to make electronic documents accessible in electronic form, and for state agencies to post commonly requested public records online.
"My hope is that we see agencies responding to the law," she said.
"Government accountability and transparency is as important as it's ever been," Healey said. "People may agree or disagree, but never for lack of integrity."
Healey was the keynote speaker at the meeting, which took place at Bastille Kitchen in Boston and was attended by about 50 publishers and others.
Healey said she recognizes the need for journalism, especially after an historic election. She noted the importance of journalists "telling everyday stories in the communities."
"It's been a challenging month and time for our country," Healey said. "We're in the midst of trying to sort through the issues.
"I support any effort from this industry," she said. "We're a resource for you and your teams covering these events. We need informed leaders."
Leadership also comes from the public, she said.
"We need to pay attention to the people we have the honor of serving," she said.
The government and the public working together is pivotal, Healey said.
"Our job is to represent the Commonwealth, that we defend laws when they are challenged, but we also wear a dual hat of representing the public interest," she said.
"I pledged to be the people's lawyer," she said. "I have enjoyed the opportunity to work with you and your teams, and I appreciate the advocacy for transparency in government."
Healey called for the community to work together.
"I know what I signed up for in the attorney general's office," she said. "I'm going to continue to be somebody who takes things as they come.
"Now more than ever, the work of the attorney general becomes more important," she said. "I look forward to doing it every day. There is a lot of work across state agencies and government, and we can do it well."