Oct
20
Tue
A Discussion On Election Polling With Micah Cohen
Oct 20 @ 7:00 pm – 8:00 pm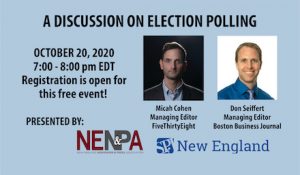 PLEASE USE THE LINK TO REGISTER IN ADVANCE FOR THE EVENT THROUGH ZOOM.
The New England Newspaper & Press Association and Society of Professional Journalists New England Chapter are excited to present this free webinar geared towards editors and reporters covering the upcoming elections.
Don Seiffert, Managing Editor of Boston Business Journal and SPJ New England Treasurer, will moderate a discussion with Micah Cohen, Managing Editor of FiveThirtyEight about the work FiveThirtyEight is doing to forecast the upcoming elections. After the discussion, there will be a Q&A with Micah.
Nate Silver's FiveThirtyEight, owned by ABC News Internet Ventures, uses statistical analysis — hard numbers — to tell compelling stories about elections, politics, sports, science, economics, and lifestyle.
Micah Cohen is FiveThirtyEight's managing editor and previously wrote for FiveThirtyEight at The New York Times.
Don Seiffert is managing editor of the Boston business journal since 2016. He has been a full-time journalist in the Boston area for 24 years.
Oct
23
Fri
NENPA U: Using Data to Inform and Improve Your Journalism
Oct 23 @ 2:00 pm – 3:00 pm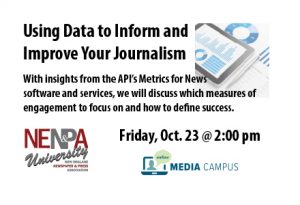 Presented by NENPA University and Online Media Campus. Free to NENPA and America's Newspapers members, $35 for non-members. Email t.cleary@nenpa.com for the free registration code.
In this webinar:
All publishers want to become indispensable to their audiences. They want to know what drives engagement and subscriptions, how to make their work part of a reader's daily habit and how deeply to cover topics that matter. Those questions are not easily answered with conventional web analytics that were never intended for journalists. What people click on, spend time with, subscribe to and share can reveal why they rely on a publisher for their news and information. But data overload can become overwhelming, even paralyzing to decision making.
With insights from the American Press Institute's Metrics for News software and services, we will discuss which measures of engagement to focus on (hint: not just pageviews) and how to define success. Through a series of 11 lessons on using metrics for newsroom change (gathered from our work with 100+ newsroom partners), participants will learn how to prioritize which metrics to track and tips for leveraging the data-collection tool(s) they already use.
About the presenter:
Katie Kutsko is a graduate of the University of Kansas and the education & strategy manager for the American Press Institute's Metrics for News program. She empowers prospective and newly-signed partners to understand how MFN's suite of products can help them build a loyal and engaged audience over time. While at KU, she served as editor-in-chief at the University Daily Kansan, where she led a newsroom transformation from a print mindset to a digital-first operation. She has interned at the Chicago Tribune, Indianapolis Star and Lawrence (Kan.) Journal-World.