By Jesse Goodman, Bulletin Correspondent
'As time went by, the digital world came to be. The newspaper world started to feel more irrelevant. But coming here and seeing these examples of journalism just blew me away.'
-Ray Duckler,
news columnist,
Concord Monitor
                                                                      Bulletin photo by Jonathan Polen

Ray Duckler, a news columnist for the Concord (NH) Monitor, has done it all in his 30-plus-year career.
Duckler, recipient of this year's Bob Wallack Community Journalism Award, has demonstrated his award-winning storytelling abilities, as evidenced in his introduction, delivered by Wayne Braverman, emcee at the New England Newspaper Awards luncheon Oct. 12.
Duckler once wrote a story about how the closing of a bridge that led to the Monitor's office forced him to take a 3.4-mile detour.
"Further research revealed that I could have driven to Miami and halfway back in the extra time it took me to reach work," Duckler's story recalled about the total miles his detour piled up for him during the bridge's reconstruction.
Duckler also spent a year documenting a refugee family, including meeting them when they landed at the airport.
He has gone up against political operatives without backing down. He investigated a former priest, who was expelled from the Roman Catholic Church and ended up as a Unitarian Universalist minister two years later.
In his acceptance speech, Duckler said: "As time went by, the digital world came to be. The newspaper world started to feel more irrelevant. But coming here and seeing these examples of journalism just blew me away."
Duckler was one of four winners recognized for special awards during a luncheon ceremony at the New England Newspaper Conference, held in the Crowne Plaza hotel in Natick, Mass.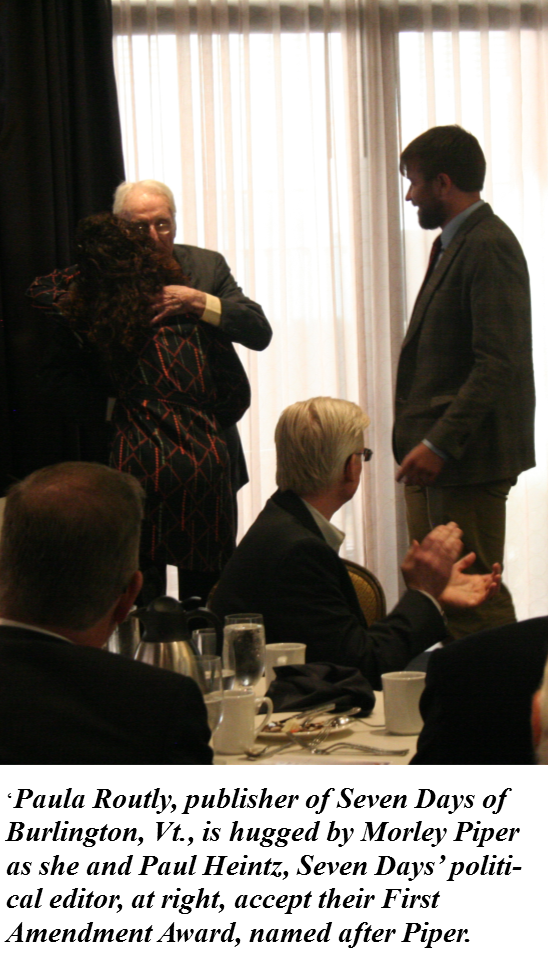 Seven Days of Burlington, Vt., and its political editor, Paul Heintz, won the Morley L. Piper First Amendment Award for helping to create a shield law for reporters in Vermont. The presenter and namesake of the award, Piper, noted the significance of their efforts.
"It is noteworthy to commend Seven Days in this important endeavor," Piper said.
The award, which is given for working to uphold the rights and freedoms of the First Amendment, highlighted the work the publication did in the wake of the subpoenas of two reporters covering a high-visibility sexual assault case, which eventually led to the campaign for a shield law and its approval by the Vermont legislature.
Heintz, who played a major role in the shield law campaign, also was honored with the AP Sevellon Brown New England Journalist of the Year award.
Heintz covered the 2016 bid of Bernie Sanders, a U.S. senator from Vermont, for the Democratic presidential nomination and continued after Sanders' failed campaign to ask tough, bold questions, such as those about controversial land deals Sanders' wife, Jane, made when she was president of Burlington (Vt.) College.
Heintz also investigated the ability to purchase the same kind of gun used in the Pulse nightclub massacre in 2016 in Orlando, Fla., in which 49 people were killed. He reported that all it took in Vermont was $500, with no mental health checks, which shocked readers, even in a loose gun law state like Vermont. His persistence as a journalist and his innovativeness led him to being honored as this year's recipient.
The Gloucester (Mass.) Daily Times was honored with the Allan B. Rogers Editorial Award. The work that was recognized was written by David Olson. It was about the firing of former Gloucester Police Chief Leonard Campanello, and demanded answers to what happened and how an "angel" anti-opioid program fell apart.
Campanello established the "angel" program in 2015 to allow drug abusers to give up their drugs at the police station in exchange for treatment, without being arrested. The program drew national attention and acclaim to itself and Campanello. In October 2016, Campanello was fired for the destruction of and tampering with evidence in an investigating into allegations against him. Two women had lodged complaints against Campanello for inappropriate conduct. When Campanello was asked to turn in his city-issued phone, he said it was stolen from his office; he later returned it with its content deleted.
The Daily Times' continual push for answers and transparency forced Gloucester officials to explain a leave of absence for, and suspension and subsequent firing of, Campanello.